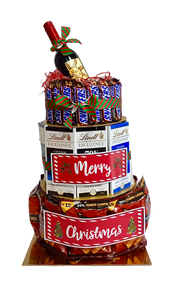 Adult chocolate & Wine tower contains:
Sula Wine 900
1- Lindt cocoa 70% 2
2- Lindt sea salt 2
3-Lindt Extra creamy 2
4-Lindt caramel 2
5- snickers 18
6- Doritos 10×8

Items may differ from above list. Equivalent replacements will be made where required.

Make anyone's day by sending them this huge tower full of wine chocolate & nibbles. Something everyone can enjoy over a nice Christmas lunch.

This tower contains a bottle of red, Lindt chocolates in assorted flavours & bags of chips.

Approx height 2-2.5 feet.
Can be home delivered anywhere in the city. ONLY IN MUMBAI CITY.